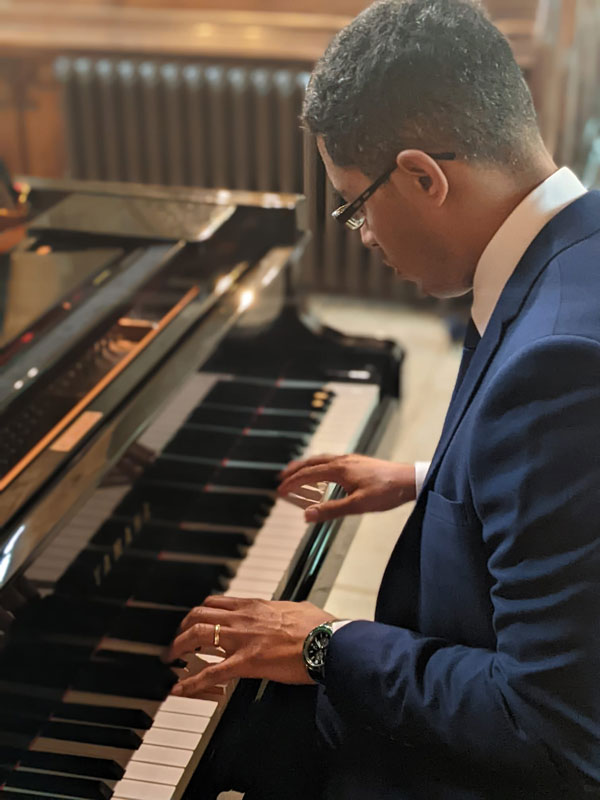 Solo Piano
And works prominently featuring piano
David Önaç has written several virtuosic works for, or featuring, solo piano. These works have had high profile performances by artists such as Peter Donohoe, Marc Danel and Simon Smith. David is also an accomplished pianist himself, and has performed and premiered several of his own works. This playlist gives snapshots from a period of about 20 years, and includes some of his youthful recordings.
David fell in love with writing String Quartets in the final year of his undergraduate degree at the University of Cambridge. He shares the high regard for quartets expressed by many composers, perhaps best conveyed by Faure as "the medium which makes the greatest demands on a composer's technical skills and a vehicle for the most concentrated…compositional thought". He has written 6 quartets in a range of styles over the past 20 years and high profile performances include premieres by the Carducci Quartet and the Danel Quartet.
Duos, Trios and Small Ensemble
David has written for well-established combinations such as violin & piano ('Ayla', premiered by the composer with Marc Danel) and flute, viola & harp ('Beginnings', premiered by principals of the BBC Philharmonic). He has also written for less common instrumentations ('Trio for violin, trombone & piano', a youthful work premiered at the Purcell Rooms). Please see the dedicated Jazz & Gospel page for small ensemble arrangements in this style.
David has set texts drawn from personal acquaintance with poets as well as renowned authors such as J R R Tolkien, a range represented by this playlist. High profile works include "Nöel", which sets a recently rediscovered poem by J R R Tolkien for SATB and organ, premiered at the University of Birmingham's Carol Service (conducted and commissioned by Simon Halsey), recorded by Selwyn College Choir (conducted by Sarah MacDonald, and generously funded by the Tolkien Estate), and performed by Kantos Chamber Choir (conducted by Ellie Slorach). David also arranges well-known choral works for the changing forces available in a liturgical and congregational setting. This includes arrangements of repertoire such as Christmas Carols, frequently undertaken at All Saints Ecclesall, Sheffield, during David's tenure as Director of Choral Worship there. Please see the Jazz & Gospel page for arrangements in this style which include choral elements.
Works for Medium and Large Ensemble
David Önaç has written for ensembles ranging from octet to large orchestra, including both traditional scorings and bespoke instrumentation. Works included in this list have been conducted by Clarke Rundell, John Miller, Mark Heron, Dan Rosina and Theo Vinden. The recording of 'Newton's Cradle' (the final piece for David's PhD in Musical Composition at the University of Manchester) also features him in the role of solo pianist.
Early interest in piano, composition and jazz & gospel
David began formal piano lessons aged 4 in the Caribbean, but also began improvising from an early age, and was fascinated by the rich harmonies played by Bahamian gospel keyboardists. These three areas of musical interest have remained central to him ever since.
After moving to the UK, his high school compositions showed these interests – you can hear David aged 16-17 playing the piano in his pieces The Butterfly (2000, solo piano, BBC Young Composer of the Year runner up), and Waves (2002, violin, trombone and piano, Purcell Rooms, Music for Youth National Festival).
Cambridge: undergrad and MPhil
From 2002-2005 David completed his undergraduate degree in music at Homerton College, Cambridge.
He studied piano with Aaron Shorr in his final year (his final recital included Scriabin's Piano Sonata No.5), but also played keyboard in a student jazz quintet in his spare time.  Academically he focused increasingly on composition, and stayed at Cambridge to complete the one-year MPhil in Composition in (2005-6 tutored by Robin Holloway).
Four Etudes (2005, solo piano) were written during his MPhil, premiered by Simon Smith at Kettle's Yard Cambridge, and premiered in Europe (Brussels) by Peter Donohoe.  They show David's continued interests in piano, composition and jazz, and were inspired by Chopin, Debussy and Ligeti's piano études, the annual Bahamian Junkanoo festival, and David's own free improvisations.
David pursued composition further in Manchester, starting with an MMus in Composition (2006-7 tutored by Adam Gorb) at the RNCM.  Here, he took opportunities to write pieces for various ensembles such as Sound (2007, for brass band), and further explored his budding interest in string quartets.  This had begun in Cambridge with a pastiche quartet in the style of J Brahms (2005), then developed into quartets heavily influenced by Shostakovich such as String Quartet no.3 (2007), and In memory of Timothy Sharpe (2007, commemorating a friend and fellow RNCM student).
David then completed his academic studies with a PhD in Composition (2007-12 tutored by Camden Reeves) at the University of Manchester. Here, his methods of composition changed significantly, resulting in a much more integrated approach, a more assured technique and the composition of larger and more coherent structures. His final three PhD pieces 'From Different Places' (2009, large orchestra), 'Ayla' (2010, violin and piano), and 'Newton's Cradle' (2011, piano concerto) were awarded the 2012 PRS Composition Prize, and two of these also featured David as solo pianist.
Simultaneously, David pursued his jazz & gospel interests as Musical Director and keyboardist of the University of Manchester's award-winning Harmony Gospel Choir, also compiling the medleys and arrangements sung by the choir in the BBC Songs of Praise Gospel Choir of the Year televised finals, and for their triple win at University Gospel Choir of the Year.
As a Teaching Fellow in Music at the University of Birmingham (2013-17), David devised, taught and administered modules at all levels of the curriculum in Composition and related disciplines (eg Tonal Harmony & Counterpoint, History & Analysis, and Orchestration).  At the Head of Department's request, he also designed a brand new module "Introduction to Jazz Styles" in response to student interest, which included performance and analysis options with bespoke assessment criteria. David
 was also commissioned by Simon Halsey to write 
"Nöel"
(2016, SATB and organ)
 for the University of Birmingham's annual Carol Service, which sets
 J R R Tolkien's 
recently rediscovered poem of the same name.  This setting was granted generous permission from The Tolkien Estate, who also generously funded a separate recording of the piece for their archives (Selwyn College Choir, Sarah MacDonald).  
While at Birmingham, David simultaneously maintained his jazz & gospel activities in Manchester, continuing as MD of Harmony Gospel Choir, and becoming MD for Manchester-based gospel collective Voices Beyond. This included co-writing original songs and arrangements such as this jazz and neo-soul reworking of the well-known carol God Rest Ye Merry Gentlemen (2016). 
This emphasis on choral works continued in Sheffield, where David was appointed Director of Choral Worship at All Saints Ecclesall from 2018-2020. In addition to weekly administration and direction of choral music, David also oversaw important updates of various resources, including digitising the repertoire used on regular Sundays which ensured it could be accessed during COVID lockdowns. David also arranged and conducted all the music for significant festival days in the church calendar, such as the 70-strong choir and orchestra for the Christmas Candlelight service.
Since mid-2020, David has been based in Manchester full-time, dividing his time between teaching, composition and performance.  
Teaching includes: 
at tertiary level, Composition and related disciplines (eg Tonality) at the University of Manchester; 
at secondary level, Composition and Jazz at the Junior RNCM as well as peripatetic 'classical' piano at St Bede's College; 
at all levels, private tuition in composition, piano and theory.  Please see the dedicated

 

Teaching page for more information.  
Composition is primarily on a commission basis (feel free to 
Contact
 David with an outline of your project): 
recently, David was specially commissioned by the ABRSM to write a new piece for their 2023-24 Grade 5 piano exam syllabus entitled "A Distant Star in the Stillness" (2022), and also arranged two of the pieces for the piano Initial Grade and Grade 3; 
he has subsequently been working on several other ABRSM commissions which will be released soon;
David also writes to commemorate significant and special life events, such as "Beauty of the Bride" (2020), which David played as his wife walked down the aisle.  This piece will become part of a larger collection soon.
Performance:
David has performed a significant proportion of his own compositions, which you can hear on his

 

Soundcloud page.  
Please see the dedicated

 

Jazz & Gospel

 

page for performances in these styles.