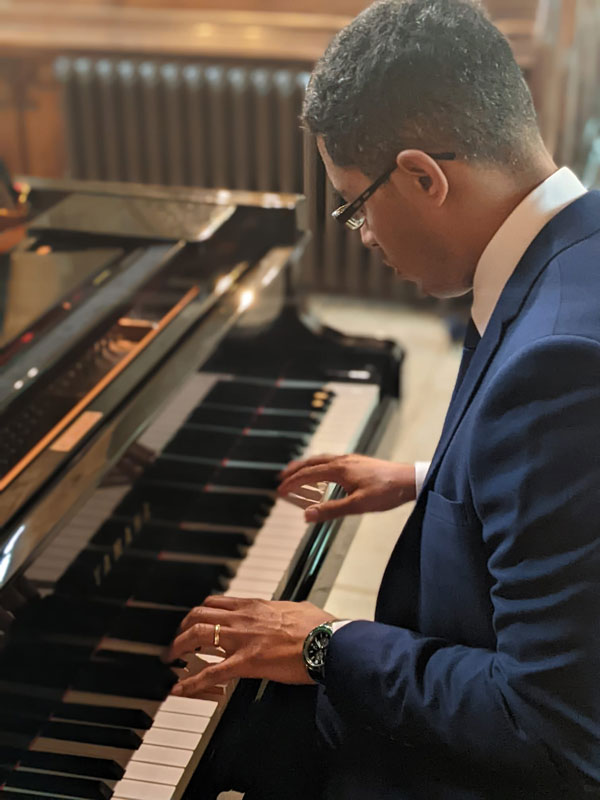 Solo Piano
And works prominently featuring piano
David Önaç has written several virtuosic works for, or featuring, solo piano. These works have had high profile performances by artists such as Peter Donohoe, Marc Danel and Simon Smith. David is also an accomplished pianist himself, and has performed and premiered several of his own works, and this playlist of his recordings gives a snapshot covering a period of over 20 years, including some youthful recordings of his playing.
David fell in love with writing String Quartets in the final year of his undergraduate degree at the University of Cambridge. He shares the high regard for quartets expressed by many composers, perhaps best conveyed by Faure as "the medium which makes the greatest demands on a composer's technical skills and a vehicle for the most concentrated…compositional thought". He has written 6 quartets in a range of styles over the past 20 years and high profile performances include premieres by the Carducci Quartet and the Danel Quartet.
Duos, Trios and Small Ensemble
David has written for well-established combinations such as violin & piano ('Ayla', premiered by the composer with Marc Danel) and flute, viola & harp ('Beginnings', premiered by principals of the BBC Philharmonic). He has also written for less common instrumentations ('Trio for violin, trombone & piano', a youthful work premiered at the Purcell Rooms). For pieces and arrangements for small jazz & gospel ensembles, please see the dedicated Jazz and Gospel page.
David has composed choral works setting texts from sources ranging from personal acquaintance with poets to well-known authors such as J R R Tolkien. This playlist includes representatives of this wide range, and high profile works include "Nöel", a setting of a recently rediscovered poem by J R R Tolkien for SATB and organ, premiered at the University of Birmingham's Carol Service conducted (and commissioned) by Simon Halsey, recorded by Selwyn College Choir conducted by Sarah MacDonald (generously funded by the Tolkien Estate), and performed by Kantos Chamber Choir conducted by Ellie Slorach. David has also arranged various well-known choral works for the changing instrumental and vocal forces available in a liturgical and congregational setting. This includes arrangements of repertoire such as Christmas Carols, frequently undertaken at All Saints Ecclesall, Sheffield, during David's tenure as Director of Choral Worship there. For arrangements of jazz & gospel numbers involving choral elements, please see the jazz & gospel page.
Works for Medium and Large Ensemble
David Önaç has written for a variety of medium to large ranging from from octet to large orchestra, including both traditional scorings and bespoke ensembles. Works included in this list have been conducted by Clarke Rundell, John Miller, Mark Heron, Dan Rosina and Theo Vinden. The recording of 'Newton's Cradle, which was the final work for David's PhD in Musical Composition at the University of Manchester, also features him in the role of solo pianist.